History
The Story of St. Francis School and Church
Mass was first celebrated in Shelfield in 1890, in a club room over the Four Crosses Inn. This was provided by Mr Peter Aspinall, who later gave land for a school chapel to be built, which was dedicated to SS. Peter and Paul and opened on 14 April 1893.
The school opened a few weeks later on 30 June 1893 and was known as Shelfield R C School. A total of 42 Children were admitted, these being made up of 17 infants and 14 boys and girls in standards (standards were a method of dividing children into different levels of attainments). The school was closed the same day owing to a measles epidemic and did not open again until 10 July.
A Chancel and infants classroom were added in 1897. In August of this year there were 115 children on the register, being made up of three infant classes and five standards.
By 1911 plans were being discussed for a new school, but this did not materialise for nearly 50 years, and then not adjacent to the existing school where it was originally intended.
The school chapel at Shelfield was part of the parish of St. Patrick's, Walsall, until 1924 when it was committed to the care of the Franciscan Fathers. At this time it also served Aldridge, Pelsall, Rushall and Walsall Wood, with a Catholic population of 425.
In 1930 a fund was started with a view to building a new church and a gift of £3000 towards this by Mr R Holden, made possible the purchase of land and the building of the new church, which was opened on 4 October 1932.
The opening of this new church, named St. Francis of Assisi, resulted in increased floor space for the school, since the Sanctuary part of the chapel was not longer required.
Although at this time it was possible for senior children to transfer to a Walsall Catholic school, it was decided, because of difficulties of distance and expense, that the school at Shelfield would continue to retain the senior catholic children until the age of 14 years. However, by September 1939 it was decided by the LEA and the Church Authorities that Shelfield RC School should become a junior school. This meant that seniors would now attend a Catholic senior school in Walsall or a local council school in Shelfield.
In 1950 the school became known at St. Francis RC Junior School (since it was under the patronage of the Church of St. Francis).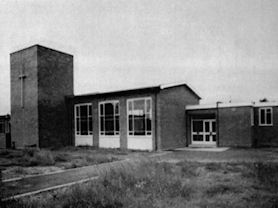 St. Francis Primary School, Shelfield. Architects: Sandy & Norris and Partners, Stafford..
By 1959 plans were made for a new school to be built adjacent to the church and having five classrooms. It was built in three stages, the first stage commencing in 1960 and the last being completed in January 1970. A nursery was added in 1975.
In 1956 a new Presbytery was built alongside the Church and the former house, adjacent to the school chapel, was made into a clubhouse. In this year also the Franciscans reluctantly handed back the parish to the care of the Archdiocese.
When the new school was completed the school chapel became the parish hall.
The school had a new classroom built in 1998 and another new classroom and Head Teachers office was opened 10th July 2009 by Bishop David McGough.
Work started on the church roof and the addition of toilets on 4 May 2011.
Our Past Headteachers
| Headteacher | Dates |
| --- | --- |
| Miss C O'Keefe | June 1893 to December 1884 |
| Miss E Morris | January 1895 to December 1898 |
| Miss Curly | January 1899 to July 1927 |
| Miss K Collins | September 1927 to January 1931 |
| Miss N Hennessy | February 1931 to January 1951 |
| Miss M Forrest | April 1951 to 19 December 1958 |
| Mr Walker | January 1959 to February 1963 |
| Mr W Igoe | March 1963 to July 1967 |
| Mr J Isherwood | September 1967 to April 1992 |
| Mrs M Hyde | September 1992 to April 1999 |
| Mrs S Wayman (Acting Head) | April 1999 to August 2000 |
| Mr J Murray | September 2000 to April 2014 |
| Dr H Rudeforth (Acting Head) | April 2014 to September 2015 |
| Miss D Richards | September 2015 to present |